blog 2021 7 min read
In conversation with Marco Klefisch
Creative Director at award-winning Milan-based agency Feelrouge Worldwide Shows, Marco Klefisch has designed and coordinated the first-of-its-kind launch event for Maserati's newest super sports car, the MC20, powered by the disguise xR workflow and Notch real-time content. Here he tells us about his experience bringing this momentous event to life.
Held at the famous Autodromo di Modena race track and live streamed worldwide, the event blended a huge open-air, drive-in installation stage with 630 square metres of LED video screens and various AR elements. disguise xR's camera calibration features helped map and deliver this unique production on a screen of such proportions. 
Read our Maserati MC20 launch case study
How did you start working with Maserati on this ambitious project?
We were approached by Maserati in a moment of significant change and rethinking for the brand. They were looking for a partner agency that could accompany them in their live experience statements for 2020.
Feelrouge were responsible for the live communication of the Maserati New Era, the brand's vision of their astonishing heritage. The aim was to create a never-seen-before automotive event format to launch their MC20 super sports car. We worked for over a year, evaluating different approaches. Maserati gave us enormous freedom to deliver the show project exactly as we had conceived it.
What was the creative concept of the show?
Its title, 'Time to be Audacious, faithfully summarises the show's creative essence—a statement of hope, courage, and audacity during the pandemic. The idea was to create a new kind of monolithic stage with anamorphic VFX designed on a static structure across three axes for interaction between physical elements, live performance, and AR content.
Conceptually speaking, the audience were all in the same place but on three different levels: the viewers online, the guests on-site and the cars themselves standing by for their celebration… Something similar to the final scene in Leos Carax's masterpiece "Holy Motor", but in a positive vibe. I jokingly named the show format a "racing opera", and in the end, it turned out to be precisely that.
Why did you decide to deliver this project using the disguise xR workflow?
I think of the xR workflow as a virtual glue, a connective tissue between reality and fiction that can amplify human experiences and dreams. I felt the need for multiple engagement levels to create variety, rhythm and intensity during the show, embracing an extensive online and on-site audience. The contemporary representation of imagination moves its borders every day, and disguise xR is the system to use par excellence.
Has the technology you used helped you achieve the creative concept as you'd hoped?
I feel that the success of an xR project is a matter of language, rhythm and rituality. From the moment I began working on the project, I called it "mixed rituality" rather than "mixed reality", essentially because I believe storytelling is the principal pillar for an effective mixed experience. A "mixed rituality" approach allows me to understand in-depth how to take full advantage of everything xR has to offer.
Every human expression, even technology itself, comprises myriad forms of behaviour that are really a series of rituals. Mixing different kinds of environments means respecting each ritual, precisely because the audience, indeed all of us, are very connected to our habits, and playing with these rituals, even in 2020, takes considerable time and effort and respect. 
For example, welcoming guests, inviting them to take their places, raising the curtain on the show, as well as setting a game avatar, initiating a group chat, choosing a password, accepting friendship, ... it's all matter of content and related rites.
When we use technology as the engine of the narrative, we must respect existing rituals and adopt their behavioural aspects in order to be effective. The technology used in the show followed this approach and empowered the storytelling in a one-to-one way. In this sense it was fundamental.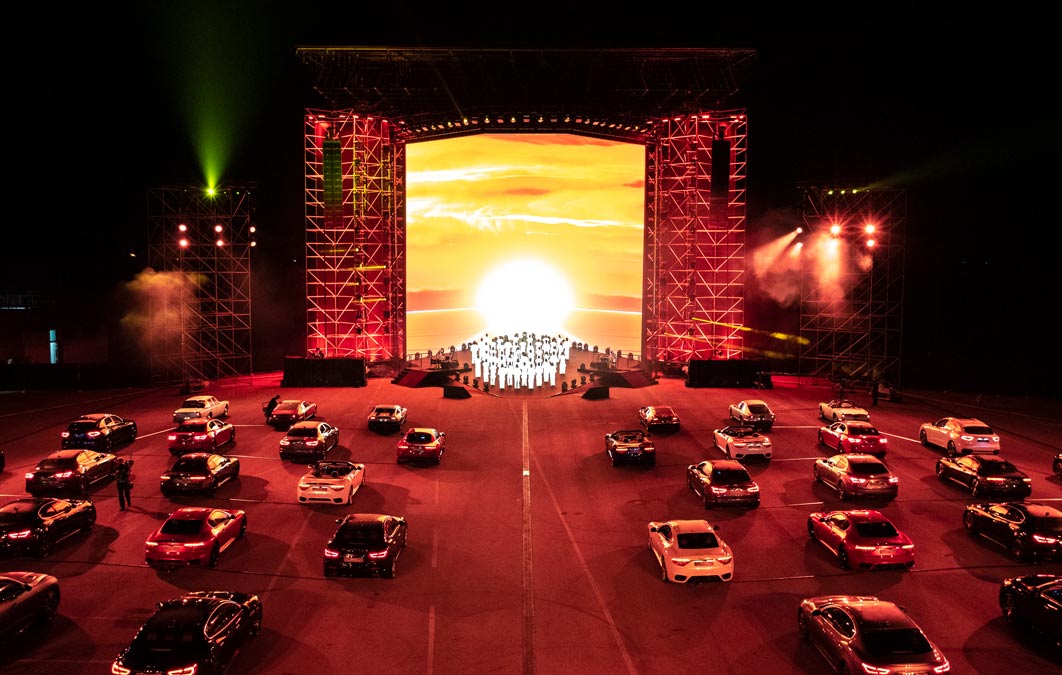 How important do you think the role of emerging technology like xR is for brands to showcase their products? 
Over the last 10 years, brands have become more than just products and services. Just imagine how they'll evolve over the next ten! Their expression of identity has been utterly transformed by moving from traditional AV channels to contemporary technological multi-sensorial communication.
These senses, such as sight, have been abused over the past years and the consumer now wants something more back from what we call "experience". To be present in some way, to hear and touch and feel. For example, I think our voice can be one of the principal new engines for experience.
The main risk could be the Umami Theory of Value: Autopsy of the Experience Economy brilliantly theorised by Martti Kalliala and Emily Segal. A constant augmentation of input/ingredients (both content and technology) to fill every experience can cause a devaluation of experience, needs and meaning. A sort of white noise of meaning. An indistinguishable flavour that might taste strong but then leaves you without a lasting memory of its essence.
If you want to address the need for a massive 360° involvement of the senses, you have to adopt a flexible device to work with, and xR could be just what's required. 
'Immersive', 'digital', 'virtual', 'augmented' have already become obsolete words in our market, and we will all be driven back to the eternal priority of good storytelling, conveyed through limitless use of the next xR technologies. 
What made you proud of this project?  
It was a great expression of teamwork alongside the client and with Valentina Saluzzi (Feelrouge CEO) we were proud to create a Feelrouge experience from the creative, production and logistical point of view.
As well as the creative direction, I personally looked after set design concept, content design and artistic direction. I enjoyed myself immensely in designing the metallic manta ray which floated right above the entire audience, the performers' reflective costumes which interacted with light and the LED screen, the battle of the "drummers" (percussionists dressed as drivers), the anamorphic VFX and the final emotional walk of over 50 employees led by their CEO following the MC20 reveal.
I'm also very happy with the music approach we took for the show. I wanted to involve different international artists for an original soundtrack, with a unique sound, far removed from that clichéd and boring "Mission Impossible" flavour, so over-used in events. I was inspired by electro sound, Italo disco and big orchestral score and chorus including OST, among others, the Icelandic tenor and choir conductor Bjorn Thorarensen, known for his work on Bjork's Medulla album, and the electronic avant-garde artist Lorenzo Senni from the Warp label.
The epic soundtrack, which preluded the car unveil and which we named "The Calling", is an extraordinary mix of styles that cross over the borders of choral sound. We used a strong drumbeat which evolves into a trance-like electronic chant full of energy. We wanted a sound that was truly epic.
xR technology adds above all a new allure to the narrative, pushing the borders of the senses across infinite landscapes, even focusing on a simple topic as its epicentre.
Do you have any key figures to sum up the success of your event? 
The event received 152.1m online impressions, 8.3m engagements and the video recording was viewed over 27.9m times.
Our work for Maserati also received the BEA Grand Prix at the 2020 Best Event Awards World Festival and was awarded Best World Event of 2020 and Gold Prize as Best Digital Hybrid Event, with a shortlist in further six categories. Similarly, we received the Grand Prix at Best Event Awards Italy, awarded Best Italian Event of 2020, Best Brand Experience and Best B2C Event.