blog 2021 2 min read
30,000 LED lights powered by disguise illuminate Christmas tree in Lorca, Spain
The holiday season is here and festivities have returned to the public square in many countries. In Lorca, Spain a non-traditional Christmas tree located near the central Óvalo fountain was unveiled to the delight of residents and visitors alike.
Produced by El Molino Producciones and Telemag, the stylised tree is comprised of more than 30,000 miniature LED lights, which form the cone-shaped branches of the tree. The 20-foot tall cylindrical trunk is a 360º LED projection surface, with moving and changing colours and images driven by a disguise solo media server, that captivates pedestrians and passing cars.
The main technical challenge was to make the images projected on the trunk visible around the town square - capturing the magic of Christmas.  Audiovisual Content Creator, Juanfran Martínez of Telemag needed to configure the LED strips on the trunk while respecting the central location of the square and the tree's outer strings of lights.  He also had to find a system that would be precise enough to respect the 30,000 LEDs designed in the plots.
Although Martínez had not used disguise together with a DMX controller before, he says it was surprisingly easy to set up a 185 DMX universe with the disguise solo. The disguise Designer software also smoothed the way to selecting DMX surfaces in 3D space.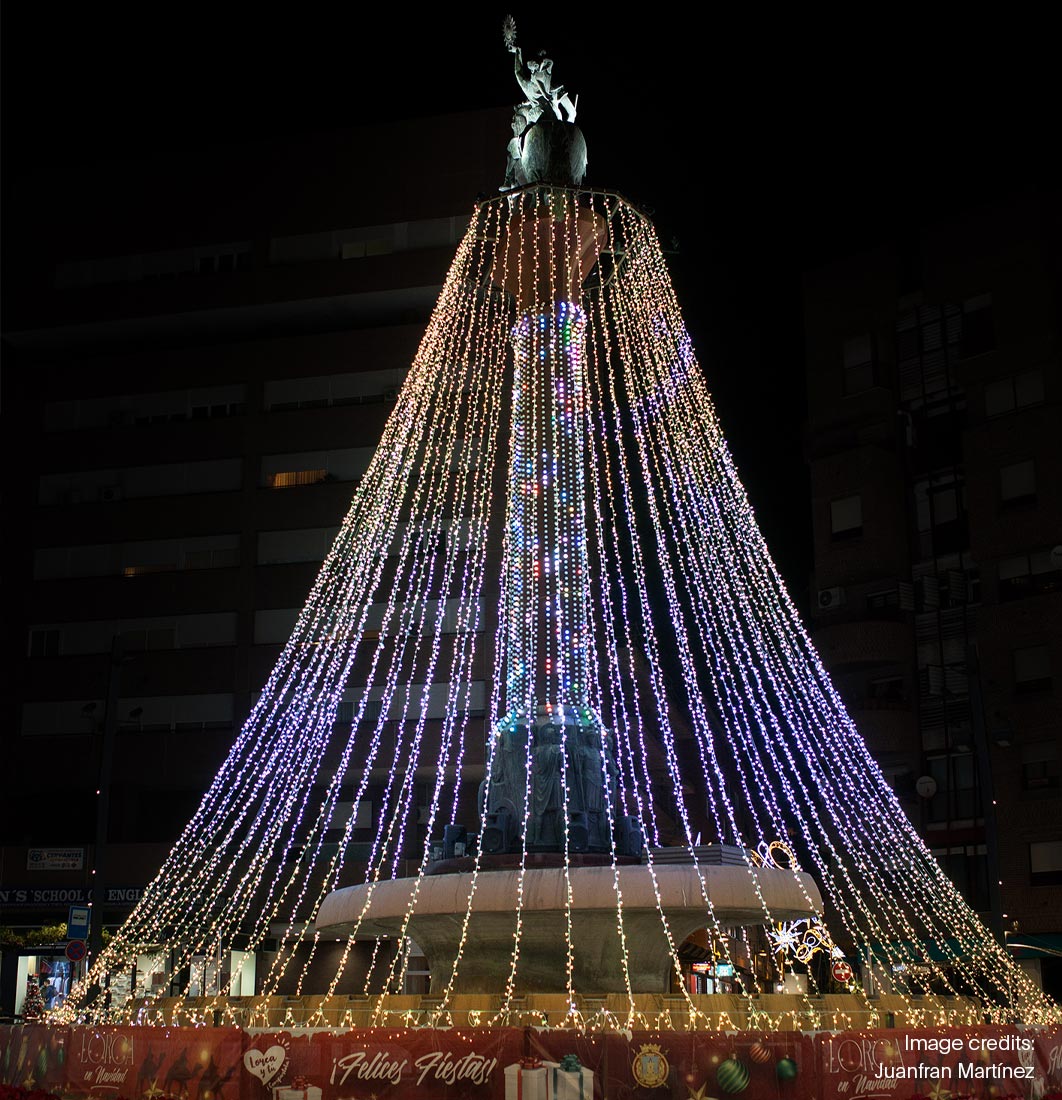 Before, when I had worked on similar projects with other software, I had to wait for the whole system to be installed to see the results. With disguise I was able to work directly on the content practically from the beginning of the project. It was great!
Juanfran Martínez, Audiovisual Content Creator at Telemag
disguise provided additional software advantages, including the option to utilise different types of mapping.  Cylindrical and radial mapping were especially useful since Martínez was working with a 360º surface and with different layers of light. 
The Christmas tree was an installation that had to be switched on and off autonomously every day so the team benefited from disguise's Event Scheduler feature.
Some 20,000 people get to observe Lorca's unique Óvalo Christmas tree daily and return home filled with the spirit of Christmas.
Credits
Promoter: Ayuntamiento de Lorca
Producers: El Molino Producciones and Telemag
Chief Assistant: Antonio Gil
Rigging Chief: Paco Sorroche