blog 2022 7 min read
disguise expands presence in the APAC region
2021 was a spectacular year for disguise, especially for our presence in the Asia Pacific (APAC) region. Our latest r20 release made the disguise Designer software available in Korean, Japanese and Simplified Chinese languages, in a move to open up wider access to our workflow. In addition, new disguise APAC locations and dedicated support and technical solutions teams were permanently established in South Korea, Japan, China; and New Zealand.
Catch-up on our APAC highlights from events we ran and took part in, across the region: 
The Global Metaverse Conference in Korea 
Seoul Metropolitan Government (SMG) recently announced it will be the first major city to enter the metaverse. Known as "Metaverse Seoul", the initiative will realise a virtual communication ecosystem for all areas of Seoul's municipal administration.
The big question is: how will Seoul and other players get on the metaverse? Also, once we get on it, what are the new rules of this unique platform?
Presented by disguise CTO, Ed Plowman, with a live demo from an xR stage from disguise CPO Raed Al-Tikriti, this session explored everything involved in creating the real-time, 3D environment of the metaverse including the AR, VR and xR elements as well as the data and standardisation needed for this new universe. 
Venturing into extended reality - a discussion with Amberin 
This webinar was hosted by disguise Head of Korea, Jinny Kim, who was joined by Amberin COO, KiSeok Kwon. As a disguise creative partner, Amberin is at the forefront of the emerging extended reality technology movement. Together they discussed how Amberin has been partnering with disguise to create and adapt to the new reality of xR and deliver spectacular live experiences in Korea.
Extend your reality: Introduction to disguise Japan 
disguise Head of Japan, Tsuyoshi Mitera, and disguise Head of Marketing and Operations, Koji Iida, presented a complete overview of disguise's capabilities in both live and virtual production, including examples of xR, stage production, theatre and much more. It was also the debut event for disguise Japan. 
ONDA Seminar in Korea 
Jinny Kim spoke at this seminar, aimed to expand the base of the metaverse, xR and immersive content.
Unreal Digital M&E Summit in Malaysia 
disguise Technical Sales Manager for Southeast Asia, Nicholas Chan, joined Epic Games as a speaker in its debut Unreal Digital M&E Summit in Malaysia. 
After a global pandemic shifted mindsets from the physical to the virtual, the summit explored the future of entertainment in Malaysia, particularly in film, TV, concerts, and gaming. Speakers from Epic Games and homegrown Malaysian studios examined the extent of the changes already being seen across the sector in Malaysia.
PCMA webinar: Extended Reality Explained - How to bring your event alive with xR 
disguise's Technical Head of APAC, Cesar Caceres, and Nicholas Chan discussed how xR elements can be applied to digital events, meetings and conferences, through a series of case study examples.
International Broadcasting Technology Forum (IBTC2021) 
The 27th Shanghai TV Festival IBTC2021 was held in Shanghai with the theme of "New Pattern of All-Media Communication". 
Deva Peng, Head of disguise China, gave a presentation on "Advantages and features of xR virtual extended shooting technology", touching on the guaranteed benefits of shooting in xR including spatial calibration, colour calibration, render engine synchronisation, excellent visual previews, and a powerful hardware platform. Combining 3D and stage simulators, the disguise xR workflow allows directors and designers to work more efficiently in a realistic environment with excellent control and faster calibration.
InvestHK Webinar in Hong Kong 
disguise's Global VP of Sales, Phil Cooksey, attended a panel discussion exploring Hong Kong's vibrant creative industries and business opportunities in the GBA and APAC region.
As one of Hong Kong's most dynamic economic sectors, the creative economy accounts for 4.4% of Hong Kong's GDP and is valued at £10.8 billion in 2018. Going forward, Hong Kong is presented with unprecedented opportunities arising from Mainland China's Greater Bay Area (GBA) development, which provides a sizable market of 72 million consumers and a GDP of £1,195 billion.
LCSD and disguise's Reimagine Storytelling Workshop 
Hosted by disguise Vice President of APAC, Alan Lam, the two-day workshop was part of an initiative from the LCSD to promote the upcoming opening of the East Kowloon Cultural Centre and familiarise local artists with the innovative technologies that support stage performances, virtual productions, interactive installations and live events. 
We were joined by Notch and many APAC-based creative studios and specialists including Korea-based Lighting and Visual Expression Laboratory Live-Lab, Japan-based Tech Director collective Bassdrum, Singapore-based event specialists Aux Media Group, Thailand-based concert production and live entertainment specialists HUI Team Design, as well as Taiwan-based live event creative specialists B'in Live.
The workshop's insights expanded far beyond the Asia-Pacific region to include key educational sessions and demonstrations from international creative and technology specialists such as disguise partner and creative studio Sila Sveta, xR and visual experience specialists All Of It Now, the US-based metaverse collective PIICO and content creation and fixed installation specialists dandelion and burdock.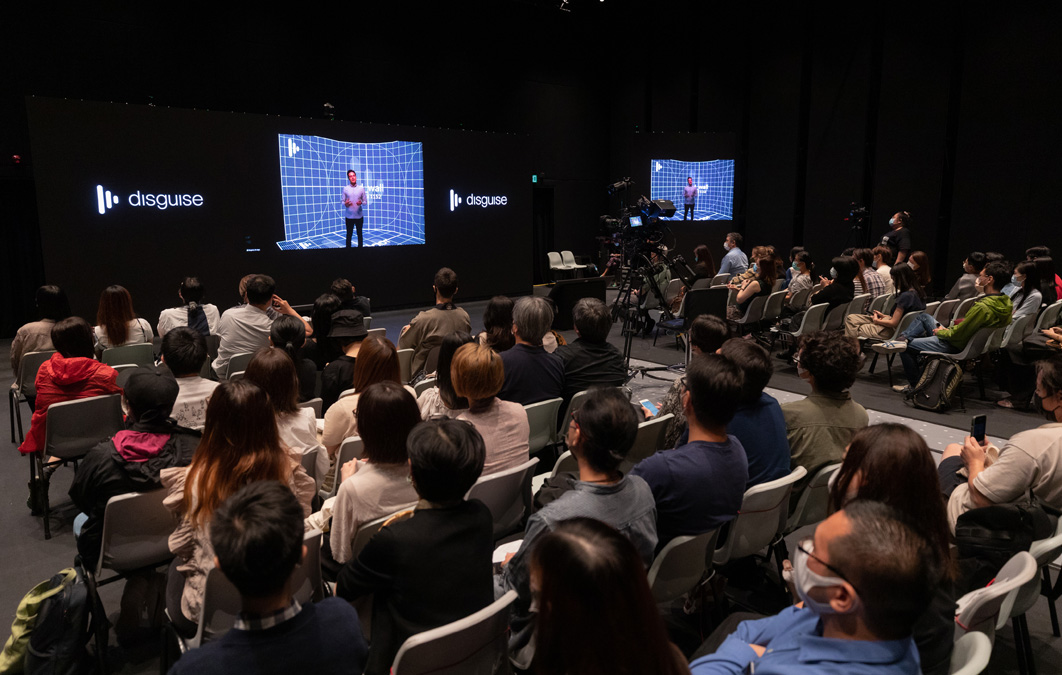 'Innovation 100' Technology Seminar China 
Under the guidance of the Chaoyang Park Management Committee of Zhongguancun Science Park, the event was guided by the spirit of the 'Innovation 100' acceleration project to strengthen exchanges and deepen services between technology enterprises and the public.
Deva Peng spoke at the online live broadcast on the Yingke and Xiaoetong platforms. The event gave audiences from all walks of life the opportunity to listen and learn from the knowledge and achievements shared by head enterprises in the field of technology throughout China.
Korean Creative Content Agency (KOCCA) Education Programme 
disguise's Head of Korea, Jinny Kim, spoke about the future of filmmaking.
The opportunity of Art x Tech for the Creative Industries at the Digital Art Fair Asia 
Digital Art Fair Asia (DAFA) strives to inspire a new generation of art collectors using cutting-edge technology including blockchain NFT, AR and VR to display world-class immersive art experience and NFT digital contemporary art. 
Cesar Caceres, Technical Head of APAC, spoke at the webinar, which was sponsored by Invest Hong Kong. Together they looked at the development and opportunities in immersive technologies, content production, NFT and digital art, sharing their insights on how Art x Tech act as differentiators in the creative industries.
Reimagine Storytelling - The Future of xR Technologies at Sampoerna University 
Nicholas Chan introduced Indonesian audiences to the benefits of xR productions in a public webinar hosted by Sampoerna University in Jakarta.
InterBEE 2021 in Tokyo, Japan 
We were proud to showcase our leading xR solution at LED provider Barco's booth at Japan's leading event for broadcasting media and entertainment
Powered by a disguise rx II and vx 4 servers, Barco's LED surfaces displayed an immersive virtual environment at the booth. Virtual production was the buzzword of this event, with many broadcasters, major production companies, leading studios and video schools visiting the stand.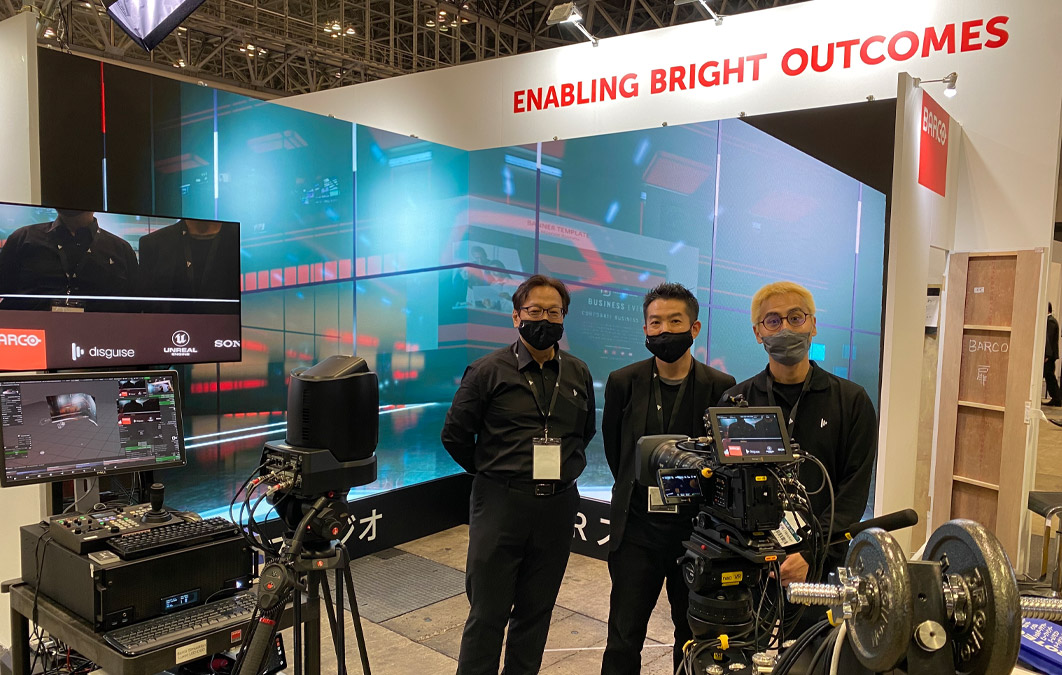 Asia Pacific Institute of Information Technology (APIT) & Asia Pacific University of Technology and Innovation (APU) in Malaysia 
Nicholas Chan joined Nixon Thuah, VP Director at film and television studio XR Stage MY, to discuss both the commercial and educational possibilities for virtual production in their session: 'Venturing Into Virtual Production: A discussion between 3Particle and disguise'.