blog 2021 3 min read
disguise powers Lightswitch's Shimmering Solstice in the Old Westbury Gardens
New York's Westbury House in the Old Westbury Gardens has come alive this holiday season with a breathtaking seasonal light projection show designed by Lightswitch, previsualised in disguise's Designer software and powered by a disguise 4x4pro.
This spectacular outdoor holiday experience, known as Shimmering Solstice, sees visitors walking through glittering light displays throughout the Old Westbury Gardens. The finale of the visit is a colourful projection show displayed on the south face of Westbury House accompanied by its own composed score that was inspired by Vivaldi's "Four Seasons". Lasting around ten minutes, the projections showcase the seasons changing from Winter, Spring, Summer and Autumn and end with a festive display of a Christmas tree, holiday ornaments and snowflakes.
The house is one projection canvas that is divided into two main parts - the stair wall leading up from the South Lawn as well as the south façade of the house itself. Even though there was a 50ft difference between these two surfaces, Lightswitch was confident they could use two 30K laser projectors with a centre blend between them as well as another two projectors for added power to realise their vision for the project.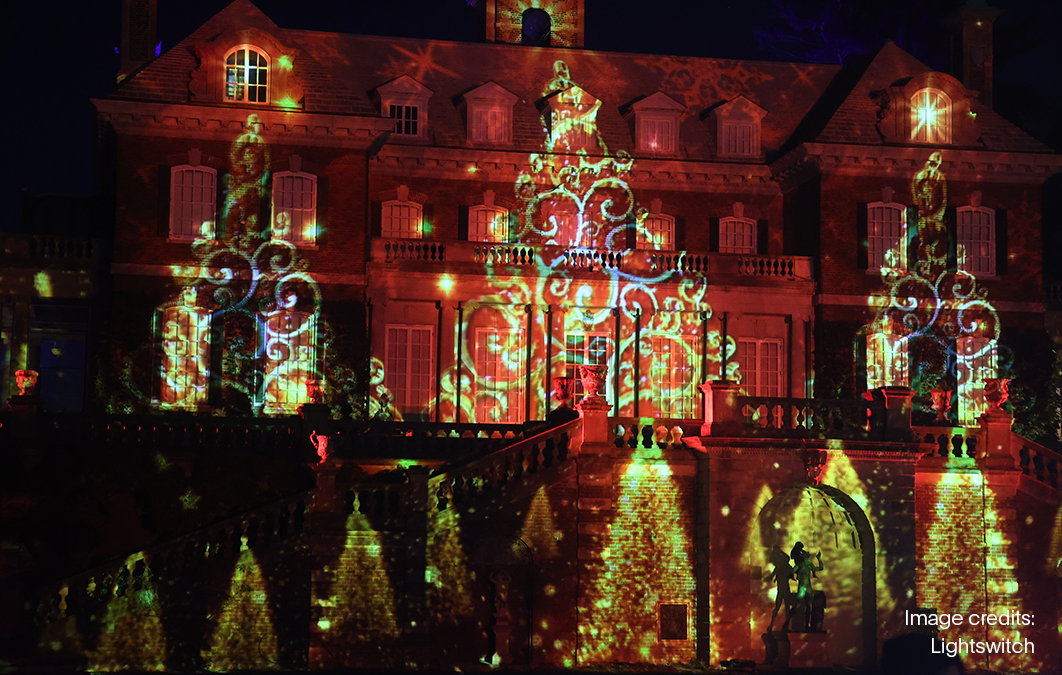 When the client - the upper management of the Westbury Gardens - asked Lightswitch to create the Shimmering Solstice, the team relied on disguise's Designer software to previsualise the project. Troy Fujimura, together with the Lightswitch team, created a 3D model of Westbury House in the Designer software with pre-programmed stage outputs that fit together with the music score - making the entire show available for the client to review.
"disguise provided the ability to pre-programme the show and create multiple versions of the show that the client can actually see in context with the music. It's not just a flat image on the screen, it makes this much easier for a client to visualise" says Principal of Lightswitch, Howard Werner.
While most of the project was pre-planned and previsualised, Werner also enjoyed the flexibility the disguise platform provided which allowed real-time changes to be made on-site.
The flexibility of changing speeds, adjusting colour and contrast as well as manipulation of the content is a major benefit. Using disguise, plus thinking through layering in advance, you can then manipulate the content that you initially thought was perfect when you arrive on-site. The process is quicker and much more flexible."
Principal of Lightswitch, Howard Werner.
Shimmering Solstice is open to visitors until January 9th, 2022. "The Old Westbury Gardens is a very historic property, " says Werner. "Visitors can walk through and experience the Shimmering Solstice at their own pace - making it Covid-safe. Hopefully, the show will shine a new light on a historically beautiful place for years to come."