blog 2022 6 min read
How we made disguise available in six new languages
We recently launched our landmark r20 software release in six new languages. In addition to English, disguise will now be available in Spanish, French, German, Japanese, Korean and Simplified Chinese. disguise's Development team have not only translated well over 6000 strings of words into six new languages but have also worked hard to create seamless workflows and provide additional APIs. Lead Software Engineer in R&D Chris Nash, Lead Software Engineer (Mapping & Tracking) in R&D Mayur Patel as well as Mid-level Software Engineer in R&D Kenneth Leung tell us the story behind the making of r20.
What was the goal behind developing r20?
Chris Nash: There were two main goals we wanted to achieve with this release:
Firstly, we wanted to successfully localise our software platform into six additional languages besides English.
Secondly, we wanted to improve the workflows for managing spatial calibrations. We achieved this by adding an API, but we also made other improvements to spatial calibrations such as moving them to be an object on the camera and creating a manual alignment tool. This will hopefully create a more seamless experience for our customers.
What improvements do you think the disguise user community will appreciate the most?
Kenneth Leung: The availability of the disguise UI in six more languages, for me, is a major benefit for users who speak those languages. The French, German, Korean, Japanese and Chinese markets are where we are seeing rapid growth. By localising and presenting disguise in these languages, it lowers the barrier to entry for these people. We also translated the training material and informative materials like ebooks and infographics. With this we are able to better educate creative and technical teams around the globe about our technology.
Mayur Patel: Our user community can now take full advantage of our spatial calibration API. Previously, you would have to make an observation as the camera has been moved around. One person will have to go back and forth. Now, you can create, for example, a web app that you can control from an iPad. As the camera operator is moving around they can just tap a button and that can disable observations to see how that sort of calibration updates without having to leave the camera.
There has also been a bit of work done on the management of spatial calibrations. Calibration was all done on the camera with each camera having one spatial calibration, whereas now we've taken a spatial calibration outside of the camera so that you can have several different calibrations side by side for the same camera, which will hopefully allow the management of calibrations to become a bit easier. "
Mayur Patel, Lead Software Engineer (Mapping and Tracking) in Research and Development, disguise
What challenges have you encountered during the development?
Chris Nash: Language localisation is a big technical challenge in various ways. Firstly there is incorporating localisation into our release workflows. This requires a rethink of the way we do our development and releases. What we had before was not as suitable for the extended character sets that you get with non-Germanic languages so we had to completely rehash our font rendering system which has been a significant chunk of the work.
Kenneth Leung: The disguise software is text rich so we had to think about how we add strings in the system. We have to go through everything and make sure that it still looks right and looks good which has been quite a team effort.
How did you solve these challenges?
Kenneth Leung: When localising the software, you can't just pick out strings individually. We've had to develop tools and ways to extract strings in an automated fashion and rethink how translation integrates into our existing workflows. For example, how do you translate the words? Do you use an external agency? How do you add the translated strings back into the software? How do you test the translations and ensure they are accurate?
We have a group of internal and external testers, who use the disguise software day in and day out. They know what the words mean in English, so they can help us track the translation and make sure that things haven't been lost in context. There is a back and forth process of iterating and making sure that everyone's happy before we released r20. At disguise, we also aim for continuous improvement so we tend to test and iterate on everything we do.
Now that disguise is available in all these languages and countries, what impact will this have?
Kenneth Leung: Hopefully r20 means a much bigger uptake of disguise tools around the world, even from people who just want to download our Designer software, which is freely available, and explore what disguise is all about. Everything we do that lowers the barrier to entry of using our software so people can understand the benefits they can unlock is extremely helpful.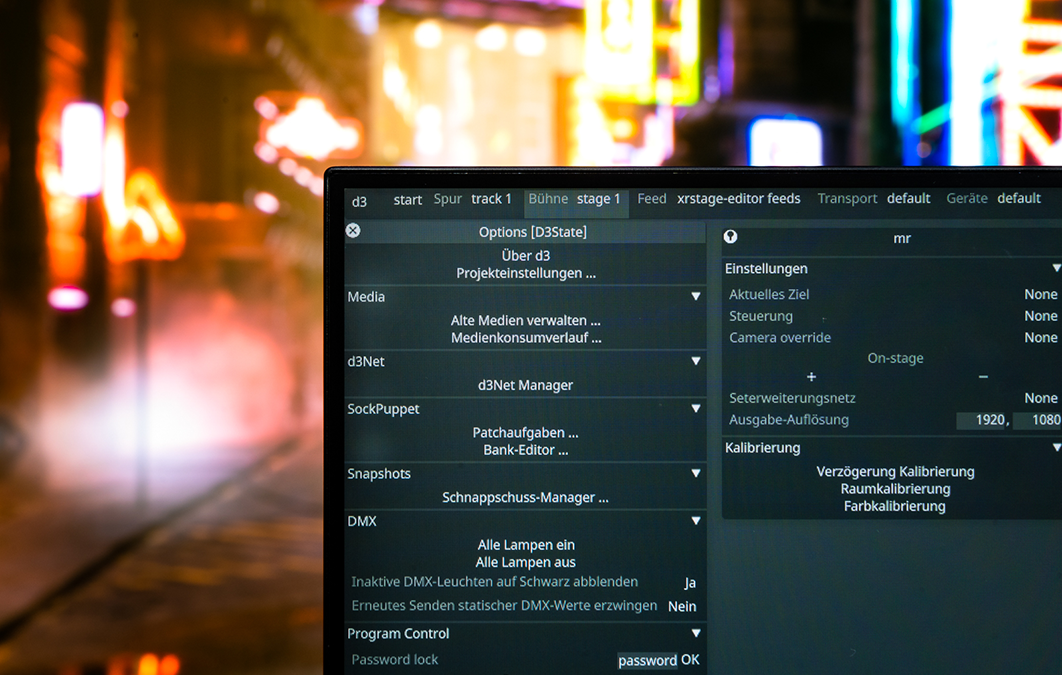 Can you tell us more about how you work together to develop this kind of technology?
Chris Nash: Our process starts off by working out what we have to deliver. We do this using our own experience and knowledge while also bringing in much-needed feedback from our customers. For example, the spatial calibration API in r20 is a feature that people using disguise xR have wanted for a while because it allows you to manage the calibration process with only one person.
Once we know what we are aiming to do, we'll sit down and work out how we can implement the feature from a technical point of view.
We also include input from our dedicated user experience (UX) team. Once we have developed the new features, the Development team and QA team then perform testing to make sure that the feature works as expected, check performance and also get an understanding of how people might want to use the software.
How did partnering with the user community impact the development of r20?
Kenneth Leung: Our user community has a major impact on everything we do but they particularly helped with this release by testing out the software in their local language and letting us know if it made sense to them or if anything needed changing. Throughout our preparation for r20, we had regular communication channels with our users set up.
We are also always opening up various Insider Groups, similar to our Cluster Rendering Insider Programme, where we work in close partnership with users to test out and improve particular features we are launching to market.
What can we expect from disguise R&D in the future?
Mayur Patel: We are, at the moment, significantly ramping up API development in the disguise software. The next step is exposing all these APIs and allowing people to write their own apps, and potentially even UIs on top of those APIs.
Chris Nash: We are constantly looking to make improvements to our technology. Our dedicated R&D team is currently experimenting with new and improved workflows for virtual production.
For the development team, the next focus is a Quality of Life release for the Live industry with some new, additional features to look out for in 2022.
Download R20 in your local language