blog 2021 6 min read
Introduction to disguise r18 webinar: Five key takeaways
By 2022, extended reality (xR) is estimated to reach a market size of more than $209 billion. disguise, with our ever-present focus on innovation, have unlocked public access to our xR workflow, along with new virtual production features, in our much-anticipated r18 software release.
In our 'Introduction to disguise r18' webinar, various disguise experts, including Chief Commercial Officer, Tom Rockhill, Chief Product Officer Raed Al Tikriti, Chief Technology Officer Ed Plowman and Global Head of Customer Experience Ethan Forde, spoke about xR in disguise's new r18 release and what users can gain from it.
The webinar was recorded on the disguise xR stage in London - demonstrating r18's capabilities to create a virtual environment that can be interacted with in real-time. 
If you want to learn more about xR, download our 'what is xR' infographic here
The webinar had five key takeaways:
1. The new r18 release allows users to deliver real-time immersive content to the highest production standards. 
Both audiences and the talent standing on an xR stage can experience and interact with a virtual environment. By integrating real-time engines such as Unreal Engine into the disguise software, users can accurately pre-visualise and create new environments on the fly - cutting time off the production process. Additionally, disguise xR's reliable and robust workflow and delivery is built to scale across any type of production - big, small or in between - with minimal setup time. 
"Our goal is to make deployments easier and more repeatable in order to expand xR," said disguise's CTO Ed Plowman as he addressed the webinar's audience. 
The new r18 release also included new features such as cluster rendering and the ACES cinematic colour pipeline, which were further explored in the webinar.
2. disguise automates the system set-up so you can focus on creating your best story

The xR workflow, included in the r18 software release, can orchestrate LED, real-time content and camera tracking all within the disguise software
"It's about taking these LED environments and giving you the tools to build these out into reliable spatial calibration and colour calibration and then, above all, the render engine synchronisation so that you can do all this from within Designer, just as you do everything else," said disguise Product Manager Joe Bleasdale to webinar attendees. 
The spatial calibration automatically aligns the 3D world with the stage in minimal time and with maximum accuracy while the automatic colour calibration creates a seamless canvas between the colours on the stage or set and the colours in the set extension.
All this is empowered by render engine synchronisation - correcting the camera perspective before and after rendering. Users can manage all feeds from the servers through the output feeds system, plus use additional layers in the timeline - adding different adjustments and filters to each layer. 
"It's repeatable, the workflow is known, and you can use all the other tools that we've been known to integrate with over the years, such as tracking workflows, generative content engines, matrices, DMX devices, OSC applications and many more. " added Joe.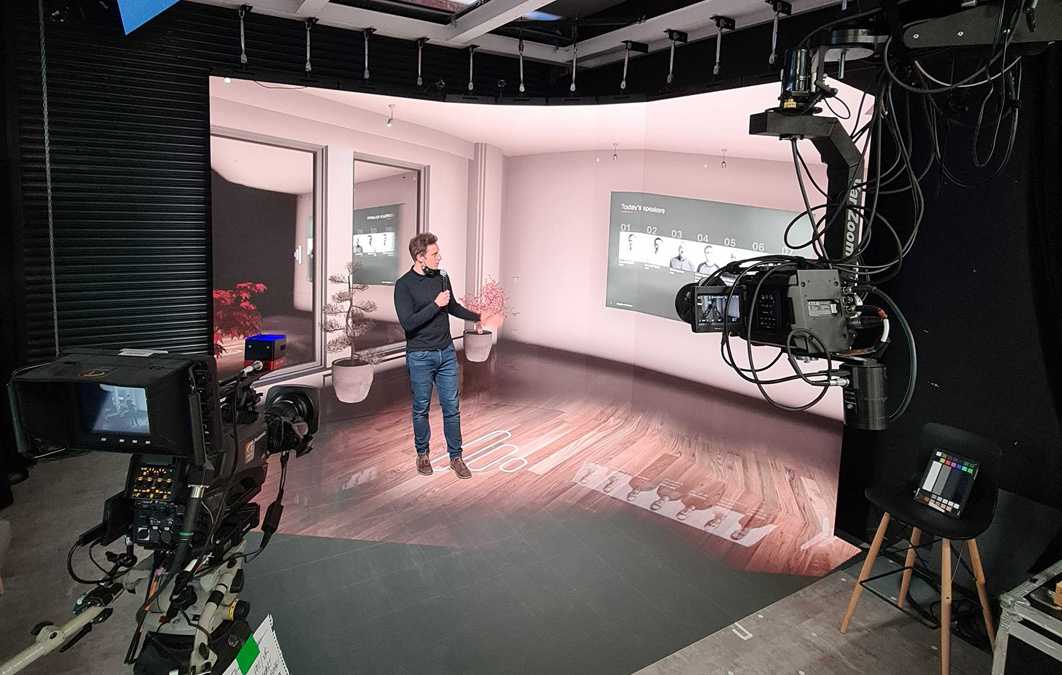 3. Cluster rendering enables high-quality content to be rendered across any large scale display or surface

disguise cluster rendering allows users to spread the render power of generative content across multiple rx machines. This allows them to build large-scale generative content without compromising on quality.
"A couple of years ago, this was science fiction. If you wanted to spread generated content across multiple machines...forget it. You were limited by a single GPU," explained disguise Product Manager Joe Bleasdale. 
According to Joe, "cluster rendering is all about taking really high-quality content with high framerates, and high resolution and spreading it across multiple render nodes - really opening the door to this linear scale factor of rendering that you couldn't do previously. You can now leverage the power of multiple rx machines and you can scale from one or two Director servers, so that you can build out this generative content without needing to compromise on quality, like you had to do in the past."
The new rx cluster rendering workflow allows users to seamlessly integrate multiple nodes of the rx machines into a single cluster.

If you would like to learn more about cluster rendering, download our e-book.


4. ACES colour management is integrated for high colour quality

The Academy Color Encoding System (ACES) is one of the primary colour management systems used in film and VFX, and its integration into disguise means that users can now access its workflow through the disguise system, enabling very high colour quality for motion picture images, regardless of the source.
"We implemented this system so that you can take different layers of content as well as content from different sources (such as pre-rendered content and content from a live camera) and automatically transfer it to the correct location from the way the image is captured," said disguise's Global Technical Solutions Manager Peter Kirkup.
This can also be done with video content. 


5. The disguise community is here to help

The r18 release, like all other disguise software and hardware, comes with access to dedicated support for any project or vision, our free e-learning platform as well as a global community of partners that can help with any challenge or requirement. 
Launched last year, the disguise Community Platform has thousands of users. The platform includes a Job Opportunities section - linking top talent and xR experts with new virtual production projects. 
Our free e-learning platform has two new courses to help users make full use of the xR features in the r18 release. These are the Virtual Production and xR workflows courses. 
disguise are also able to provide end-to-end project support for any project, no matter how ambitious. We have offices based in seven different countries, plus eight service centres, with over 400 partners and over 3000 trained operators offering 24-hour global support. 
"We love working with customers who are dreaming big and want to make the most of their skill sets by extending their production capacity to a complete solution, " said disguise Special Projects Manager Karl Jenkins. 

Learn more
If you would like to know more about r18 and xR, there are plenty of opportunities to get acquainted:
For a more in-depth deep-dive into r18, join our next webinar.


Create your best story by downloading r18


If you would like to know more about xR, book a demo