blog 2021 5 min read
Seven reasons why cluster rendering is a game changer for production
Our new r18 software release has the potential to stir up some exciting possibilities for anyone looking to make the most out of extended reality (xR) and virtual production techniques.
From the most user-friendly and flexible render engine integration to date, to added support for the ACES cinematic colour management, r18 adds plenty of new features to the disguise workflow.
One of the biggest upgrades r18 offers users will be the ability to incorporate cluster rendering into any production that uses an LED, projection or other similar display canvas that hosts high-quality real-time rendered content. By allowing users to spread the rendering load of a scene across multiple machines, cluster rendering will enable the use of high-fidelity uncompressed images at scale across any application.
Let's take some time to explore just how cluster rendering will turn things on their head once and for all.
1. No compromise, no matter what

Because cluster rendering allows for scenes to be fragmented and rendered over a number of different machines, users have the unparalleled ability to create complex or outsized visuals that aren't compromised in their quality, resolution or framerate.
This isn't possible when rendering through a single render node. The finite GPU processing power guarantees that at some point users have to choose between realising every element of their vision, but sacrificing quality, or thinking smaller in order to preserve the standards they are seeking.
But with cluster rendering, every inch of your scene is given the attention it needs. This is particularly useful for virtual production, where the ability to control what's on screen can dramatically impact the look and feel of a scene. Use cluster rendering to explore different variations to your backdrop, changing the time of day, the way the light falls on your backgrounds, or any other element of your virtual set, knowing that experimentation won't impact the quality of your work.
2. Unreal Engine nDisplay integration
We're partnering with Unreal Engine to ensure absolute support for cluster rendering. By integrating nDisplay, disguise cluster rendering will allow you to make changes to your Unreal Engine content directly from the disguise timeline.
By compositing your content before the final output, you can fully understand your end result and adjust it to meet your needs ahead of time. For film and episodic television shows using virtual production techniques this will be an invaluable tool. Cut down on wasted time during filming by ensuring everything is exactly as it should be before you even step on set.
3. Fully adaptable scalability
Cluster rendering allows you to choose the scale of your production so that it suits your needs. There's no need to commit to using more render engines than you need - cluster rendering allows you to add them as and when the production size demands it. In the LED volume set up by our partners at Orca Studios (below), graphics on the central LED screen (captured in the in-camera frustum) are rendered by one disguise rx machine, whilst the images beyond that area (the out-of-camera frustum) are rendered separately by a second rx.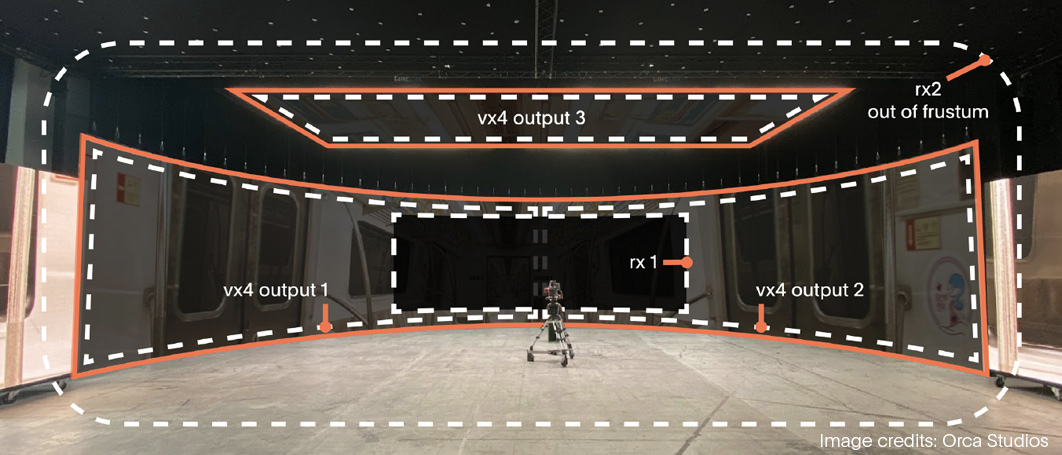 Scalability isn't just about the amount of pixels used to create an image, either. Cluster rendering enables bigger visual canvases, fragmenting sections of a scene onto multiple machines. But it also enables you to render more complex backdrops and scenery, adding more rx units to increase your render power accordingly.
This also means broadcasters have more control over the scale of their productions, with those incorporating xR techniques able to add extra rx units specifically to deal with the added layers. It would be an easy addition for the studio above to include a third machine that specifically focused on a cluster of xR graphics layered over the existing set-up.
4. Near linear scaling
Too often the scaling up of digital operations results in an effect of diminishing returns on the end product. Every extension requires a larger boost to processing power until the render is dwarfed by the amount of energy that is being put into simply keeping things running.
Because cluster rendering designates entirely separate machines for each fragment that you render, it's possible to scale without this diminishing effectiveness. disguise's software connects units effortlessly, meaning that scaling is almost linear - the impact of adding a fourth unit to the cluster is practically equal to that of adding your second or third.
5. Simple synchronisation
One potential concern that cluster rendering presents is synchronisation between each cluster - how to line up imagery and ensure that there is no visible join between them. A lack of colour synchronisation, or latency issues between units could cause such a problem. disguise's state-of-the-art protocols mean that all of these issues are automatically taken care of within the workflow, so that operators can focus on making the most stunning scenes possible.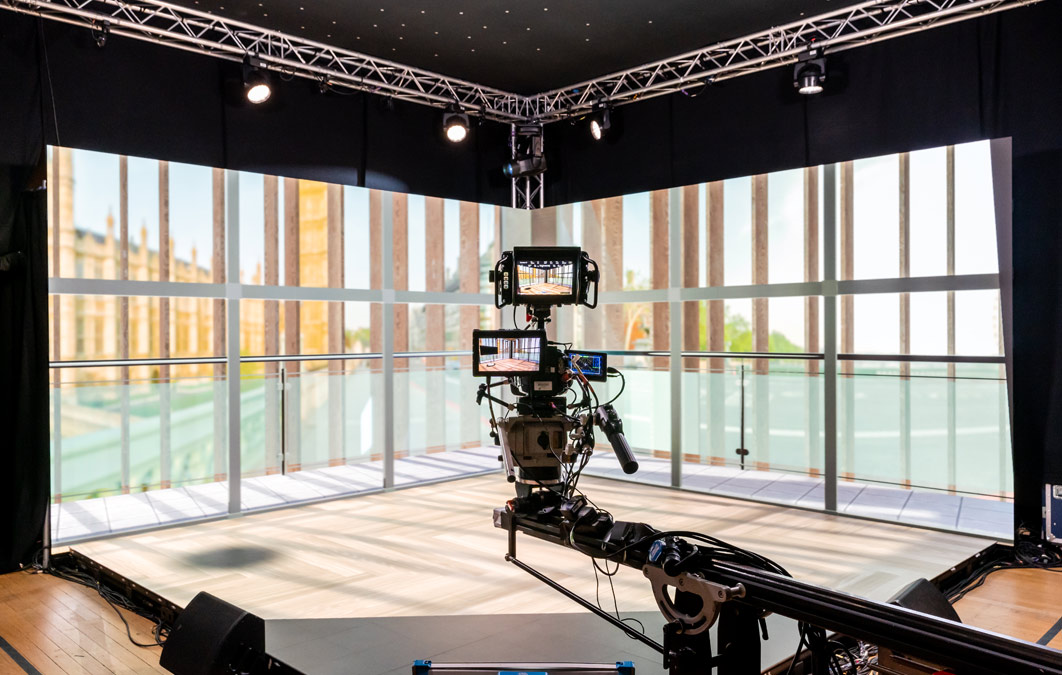 6. Bidirectional workflow
Cluster rendering through disguise's timeline means a lot of flexibility, with bidirectional communication between units. This means that it's easier than ever to adjust and adapt scenes, as well as working closely with third-party integrations to help you better realise your ambitions.

7. The highest-quality video content
All of the above means one thing - cluster rendering offers the potential to bring to life the most vivid of ideas with high-fidelity, uncompressed imagery that runs with minimal latency issues regardless of how many units you use to create it.
Whether you're looking to build a small virtual production set featuring complex moving backgrounds, or to fill a gigantic arena with high-quality visuals for a generation-defining pop star, cluster rendering allows you to create photorealistic images that blow you away every time.
Cluster rendering looks set to change the way visuals can be presented, whether you're working in virtual production, broadcast, live events, or with fixed installations.
Explore how cluster rendering can make your work easier in our new ebook